You Are Pocahantas!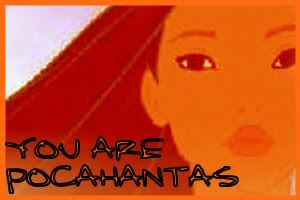 Free-spirited and wise. You have a strong passionate spirit that touches and changes all who know you. The wisdom and common sense that you have is really what guides you through life. Even so, you also have a very playful side that loves adventure and excitement.
Which Disney Princess Are You?
I got this from Momma/Cowgirl's blog An Unfinished Project...she is Cinderella and says she can relate to the reasons why. I'm not sure how my result was Pocahontas except maybe that I answered, if stranded in the middle of nowhere with no money, I would walk home. Assuming you have always imagined yourself as one Disney princess or another, the brief quiz will help you get specific. Happy Monday everyone!